Connecting Robots, Surgeons, and Patients
Connecting Robots, Surgeons, and Patients
Originally Published MPMN June 2001
Profile
Connecting Robots, Surgeons, and Patients
Connectors designed for robotic surgery applications feature enhanced shielding.

Zero-insertion-force connectors can withstand more than 10,000 mating cycles with no signal degradation.
Robotic surgical systems can require the use of dozens of connectors to maintain a reliable information flow. A crucial concern for engineers who specify connectors for these systems is the potential for electromagnetic interference (EMI) and radio-frequency interference (RFI). Zero-insertion-force (ZIF) connectors developed by ITT Industries Cannon (Santa Ana, CA) have a built-in shielding mechanism, which was developed for use in the da Vinci robotic surgical system designed by Intuitive Surgical (Mountain View, CA) to perform minimally invasive surgery.
"The da Vinci creates three small punctures between the patient's ribs and sends in probes," explains Cannon design engineer Jim Moore. "One probe is fitted with a camera, and two others have fingerlike devices, or endofactors. All of these parts—the input video, video monitors, robotic arms, and endofactors—are modular and need to be connected," Moore says.

ITT Industries Cannon engineer Jim Moore developed a version of the company's connectors for use in the da Vinci robotic surgical system.
Moore collaborated with Intuitive Surgical and other manufacturers of robotic surgical systems to develop a version of Cannon's DL ZIF connector that would meet the OEMs' rigorous requirements. In particular, he enhanced the connector's shielding to protect the devices from EMI and RFI.
Conventional connectors with a plastic housing require an outer shell of some kind, or mounting hardware, to act as a shield, notes Moore. "Our connector has a metal backshell that is attached to the body of the cast aluminum, nickel-plated connector," he explains. "This provides a direct shielding path."
Reliability and durability were also key factors in the connector design, he notes, and Cannon's track record in ultrasound equipment, where its connectors have an 85% market share, was a significant asset. "It's a proven component guaranteed for a minimum of 10,000 cycles with no signal loss or degradation," Moore says. The high cycle rate is a function of the zero-insertion-force feature.
"When the ZIF connector is fully mated, the contacts do not touch each other," says Moore. Conventional pin-and-socket connectors are limited in their number of cycles because the plating deteriorates each time they are mated, he adds.
Intuitive Surgical's da Vinci system integrates computer-enhanced robotic technology to translate the surgeon's natural hand and wrist movements on the console into corresponding micromovements of instruments positioned inside the patient. The device received FDA clearance for use in thorascopic surgery in March 2001; it was previously approved for use in laparoscopic procedures. "This brings Intuitive one step closer to receiving clearance of the da Vinci system for cardiac surgery," says Intuitive Surgical medical director and cofounder Fred Moll.


Neoprene Isolators Reduce Oxygen Concentrator Noise, Vibration, and Assembly Time
The elastomer isolators are more durable than rubber mounts.
It would be rather ironic for an oxygen concentrator to clear the air while emitting noise pollution. Yet the motor that typically runs a concentrator produces so much vibration that the device could shimmy across a table if it were not properly isolated. When Mallinckrodt (St. Louis), a manufacturer of medical respiratory equipment, sourced new isolators for its concentrators, attenuation of noise and vibration was a key criteria. As it turned out, durability and a reduction in assembly time were part of the bargain.
The Mallinckrodt Model 590 oxygen concentrator is designed for home use. The concentrator takes in room air and passes it through a compressor. The compressed air then passes through timed valves into a regenerative system. Air is pumped into one canister, or sieve column, which captures the nitrogen and releases oxygen from the bottom. The system then switches and pumps air through a second column to release further oxygen.
During operation of the valves, the compressor runs continuously on an electrical motor with two pistons, causing considerable vibration. According to Sandy Walker, manufacturing engineer for Mallinckrodt, "These devices are used in a person's home, so they need to be nondisruptive. You don't want to have to put the concentrator in the other room while you're watching television."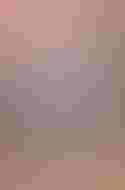 Vibration isolators ensure that Mallinckrodt's oxygen concentrator operates quietly within a patient's home.
Mallinckrodt had been using vibration isolators on its oxygen concentrator, but the components were expensive and they complicated the assembly process. Mallinckrodt engineers surveyed the marketplace for alternatives and found Barry Controls (Brighton, MA), a company specializing in products and systems that control vibration, mechanical shock, and structure-borne noise.
The rubber mounts that Mallinckrodt had been using would degrade after three or four years of use. The company briefly tried a spring-mount system, but the engineering team realized that this created its own set of problems. According to Walker, "The assembly of the spring-mount system was comprised of a lot of parts. Because these parts were custom made, they were costly and had long lead times." They also added to an assembly process that was already very time-consuming.
Barry's engineering department performed several weeks of rigorous vibration tests on the concentrator and, based on their observations, developed a multiplane isolator constructed from a neoprene elastomer.

The isolators are made of a neoprene elastomer and attach to the feet of the compressor.
Mallinckrodt tested the isolator design for several months, evaluating its performance at extreme temperatures and conducting shock and vibration testing. The company's engineers determined that the neoprene was able to withstand the tests better than a silicone isolator that they had also been considering. "We picked the neoprene elastomer because it had better tear resistance, and the material properties indicated that it would last through our five-year warranty period," says Walker.
The Barry engineering team also was able to streamline the number of parts needed for the isolators. The original spring-mount system required six different parts—Barry reduced that number to three. To Mallinckrodt, this meant an improvement to its bottom line, because it resulted in less assembly time.
Furthermore, Barry's isolators worked on both the domestic and international models of the concentrator, whereas other mounts Mallinckrodt tested did not.
Mallinckrodt has been producing the Model 590 concentrators with the new isolators, and, considering the cost and assembly time savings, is pleased with the results. The patients who use it are breathing a little easier, too.
Copyright ©2001 Medical Product Manufacturing News
Sign up for the QMED & MD+DI Daily newsletter.
You May Also Like
---