Can Holograms Change 3D Medical Imaging?
Can Holograms Change 3D Medical Imaging?
RealView Imaging's new system provides ultra-realistic 3D/4D interactive medical holograms without causing nausea or headaches for clinicians.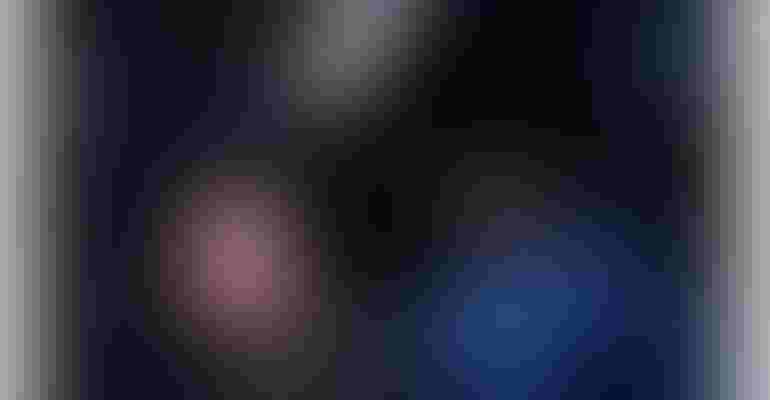 Image courtesy of RealView Imaging
The recently FDA-cleared Holoscope-i system, developed by RealView Imaging Ltd., employs a technology that projects 3D/4D true holograms of a patient's anatomy in free space. This creates high-quality holograms that are visually similar to 3D printing of volumetric information—optically indistinguishable from actual objects.
"You see 3D imaging being used in various clinical applications, from cardiology and oncology diagnostic procedures, and all the way to interventional oncology procedures, structural cardiology procedures, and electrophysiology procedures," said Aviad Kaufman, president and chief commercial officer at RealView Imaging Ltd., in an interview with MD+DI. However, he said, this 3D volumetric information representing the patient's organs is currently only being displayed on a 2D screen, leaving out important data for the clinician.
"There's a great need in the world of medical imaging to have 3D/4D holographic images that are accurate and allow physicians to work with them at hand's reach and for a long period of time," Kaufman said. "With currently available 3D stereoscopic visualization solutions, including augmented reality headsets, virtual reality headsets, and stereoscopic screens, users focus their eyes at a certain distance, but they receive an illusion that the image is at a different distance," he explained. "And once you work with these solutions for a few minutes, your mind is telling you something is wrong and that's the reason that you get a headache and nausea. It's called the vergence-accommodation conflict," Kaufman said.
RealView Imaging has developed the next generation of mixed-reality technology that eliminates these side effects from one hand, while producing a superb realistic volumetric representation of the medical data. This new technology is based on a Nobel-prize winning holographic technique that provides all 3D visual depth cues, projecting all the image points simultaneously at multiple depth locations, like a 3D printer of light points. The holograms created by the Holoscope-i system provide optical reality, not an optical illusion, and do not trick the eye or the brain in any way, said Kaufman.
The Holoscope-i system is mounted over the physician's head, not on it. "That's extremely important," Kaufman said. "Because if you want a physician to do something for five minutes, you can provide something that is mounted on his head. But if it's a physician that is using 3D imaging for long procedures throughout the day, our research clearly showed that he is not going to keep the headset on, due to the associated discomfort."
The system creates the holograms in real time. "The first critical thing that we're doing is providing intuitive visualization of the anatomy," Kaufman said, noting that depth perception is a crucial element for understanding the anatomy of the organs being treated.
The user can also manipulate the dynamic holograms in various ways.  "You can go into the hologram with your finger, and you can rotate the image. You can crop the image. You can mark points inside the image and make measurements," Kaufman said. "You can really interact with the image in the air, as it's floating in front of you at hand's reach."
Kaufman said the system has been well received by users. "Our team has spent many years in interventional labs and surgical suites to learn the needs of physicians," he said. He also mentioned that he has even had physicians come up to him and say that this is the first time they have seen an actual heart since medical school. Unless they are surgeons, most cardiologists don't see the actual heart; instead, they diagnose and treat it with the aid of imaging tools and devices such as catheters, Kaufman said.
"When it comes to treating patients, the company is just starting," he said. "This is our first FDA clearance. It's big news for us and we believe it's also big news for the industry. We're going to move very strongly into commercialization and growth in the U.S. and other markets," Kaufman concluded. "There's also a long list of applications for medical holography that we believe can really change the landscape of 3D medical imaging. Anywhere 3D imaging is important, true holography can make a real impact."
Sign up for the QMED & MD+DI Daily newsletter.
You May Also Like
---