Optical CMM for Highly Polished Surfaces Comes to North America
Optical CMM for Highly Polished Surfaces Comes to North America
Originally Published MPMN June 2007
BREAKTHROUGHS
Optical CMM for Highly Polished Surfaces Comes to North America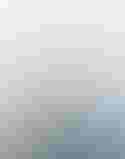 The Maxos noncontact optical CMM combines speed and accuracy.

Although noncontact optical coordinated measurement machines (CMMs) are more efficient than touch-probe CMMs, they have an Achilles' heel for medical manufacturers. When scanning freshly machined, highly polished surfaces in clean environments—such as the surface of stainless steel used to make complex artificial joints—noncontact optical CMMs measure inaccurately unless sprayed with a coating, and the need to spray negates the productivity advantage.
There is an exception to this rule: the Maxos from Nvision Inc. This optical CMM overcomes the need to spray with its proprietary noncontact probe that maintains an ideal distance of 90–110 mm from the scanning surface, thus avoiding the usual pitfall of optical scanners: allowing light off the highly reflective surface to compromise accuracy. The probe is a point of white light that allows the collection of individual measuring points at a rate of 70 per second. (Conventional touch-probe CMMs average one point per two seconds.) Like a touch-probe CMM, the Maxos collects data from individual points, but while a conventional touch-probe CCM retracts between points, the Maxos moves without pausing or sacrificing speed.
How accurate is the Maxos while maintaining high speeds? According to the company, ±2 µm on matte surfaces and ±10 µm on polished metal. It can achieve a point-spacing resolution of 0.2 µm without pausing. Additionally, since it has no ball probe and measures a single point at a time, ball-offset geometry does not limit it; consequently, it can inspect radii of less than 0.2 mm, which is key to the measurement of leading and trailing edges on turbine blades.
Overseas companies have already been enjoying the benefits, says Giles Gaskell, director of business development at the company. "Customers typically see productivity improvements well in excess of 400% compared with the fastest touch-probe CMM." Now the Maxos is also available in North America.
The Maxos also features multiaxis operation. It uses the conventional three axes of a CMM with two additional axes on its sensor, along with two optional turntables resulting in up to seven axes in all. All of these axes can be controlled to ensure smooth and fast movement around all of the measuring points, even on difficult-to-measure horizontal geometry and blade platforms, according to the company.
Real-time output can also be achieved. The machine creates its own alignment for the measurement of a medical part based on an alignment file, after which it will typically measure cross sections and features against predetermined geometry. Consistent with a production environment, Maxos will provide a complete inspection report at the end of its measuring routine without delay, enabling instant feedback for process control.
Other features aside, what distinguishes the machine for medical manufacturing remains its combination of speed and accuracy. "It's breakthrough technology. The company has been working with optical scanners since the early 90s and the problem until now has always been that they can't scan shiny surfaces," Gaskell says. "Anyone needing to improve throughput in their inspection process needs to take a look at what the Maxos has to offer before they buy another CMM."
NVision Inc., Wixom, MI
www.nvision3d.com
Copyright ©2007 Medical Product Manufacturing News
Sign up for the QMED & MD+DI Daily newsletter.
You May Also Like
---