Diabetes Tech Demonstrates Key Advancements in 2022
Diabetes Tech Demonstrates Key Advancements in 2022
Our look back at the innovation, company news, FDA approvals, and more in 2022 backs MD+DI's prediction that this would be diabetes tech's biggest year yet.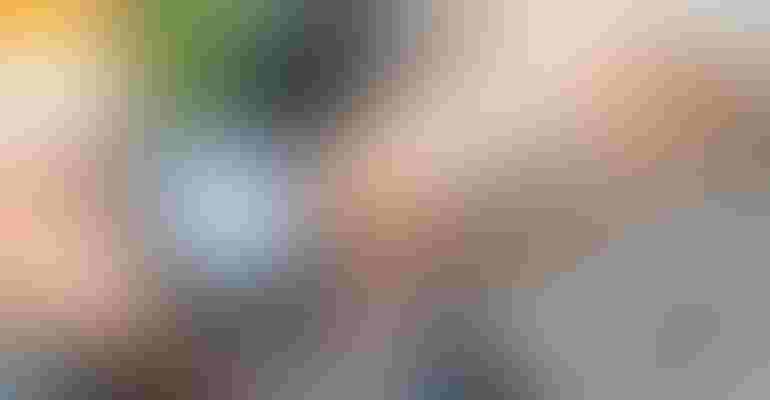 Image courtesy of PA Images / Alamy Stock Photo
Innovation has been the name of the game for the diabetes technology sector in 2022. The FDA clearances that have followed are translating, in many cases, to big business.
The year had a brisk start. Among the headlines, Insulet announced the FDA had cleared its Omnipod 5 Automated Insulin Delivery System for people ages six years and older with type 1 diabetes. Omnipod 5 is the first tubeless automated insulin delivery system that integrates with the Dexcom G6 Continuous Glucose Monitoring (CGM) System and smartphone control to automatically adjust insulin and help protect against highs and lows.
By February, the FDA had approved Senseonics' next generation Eversense 180-day continuous glucose monitoring system. "Further extending the duration of the longest lasting CGM system to six months represents a massive leap forward for patients and towards our mission of transforming lives in the global diabetes community," said Tim Goodnow, PhD, president and CEO of Senseonics. 
In mid-February, Tandem Diabetes Care received FDA clearance for bolus insulin dosing on the t:slim X2 insulin pump using the t:connect mobile app. This milestone was the first FDA-cleared smartphone application capable of initiating insulin delivery on both iOS and Android operating systems. In August — the first month following its commercial release — San Diego-based Tandem Diabetes Care announced that t:slim X2 insulin pump users had delivered more than 1 million insulin boluses using the t:connect app feature on their personal mobile devices.
"The rapid adoption of our mobile bolus feature demonstrates the importance of our offering new technologies that provide lifestyle benefits, in addition to improved clinical outcomes, to people living with diabetes," said John Sheridan, president and CEO of Tandem Diabetes Care, in an August press release.
Setbacks Along the Way
Dexcom announced in March that it had received European approval for its much-anticipated G7 Continuous Glucose Monitoring System for people with diabetes ages two years-and-older, including pregnant women. The G7 sends real-time glucose readings automatically to a compatible smart device or receiver, with no finger-pricks required. Dexcom G7 also offers customizable alerts that can warn of high or low glucose levels and help users spend more time in range.
There was more good news for Dexcom. That same month, the San Diego-based company won the FDA's breakthrough device designation for its CGMs to be used in the hospital setting.
But not everything in the diabetes technology space has gone smoothly in 2022. Dexcom's G7 CGM has yet to gain FDA approval. The holdup is due to the administrations concerns over the software's system alerts. According to an earnings call in late October, Dexcom still expects FDA clearance and plans on a limited launch before the year's end. However, with December about to begin, there's no news on that front, yet.
Competition Heats Up
MD+DI reported in June that Dexcom could face more pressure in the CGM market thanks to Senseonics' announcement the same month that the FDA had approved its Eversense CGM system for use in people 18-years-and-older with diabetes.
"This is the first FDA-approved CGM system to include a fully implantable sensor to detect glucose, which can be worn for up to 90 days," according to the FDA.
"… We believe the unique features Eversense offers will help open up CGM to millions of people with diabetes who, up to this point, have been hesitant to try CGM despite the clear health benefits it provides," Goodnow said, in company release.
Abbott Secures FDA Nod, Collaborates with WeightWatchers
Abbott, which got its FDA nod for the Freestyle Libre in 2017, announced the FDA had cleared the Freestyle Libre 3 for people 4-years-and-older with diabetes at the end of May 2022. "It's a game changer for the millions of people living with diabetes," said Jared Watkin, senior vice president of Abbott's diabetes care business. "They'll be able to manage their health minute-by-minute with the world's smallest and thinnest sensor and most accurate 14-day continuous glucose monitoring system."
Industry collaborations also made news in 2022. Abbott announced in August that it was partnering with WeightWatchers, which is integrating its diabetes-tailored weight management program with Abbott's portfolio of FreeStyle Libre products. The goal is to create a seamless mobile experience, giving people with diabetes the information and insights needed to make healthy adjustments to their diet, improve glucose levels, and, ultimately, gain more control of their health, according to company news.
Adding Positive Results to the Mix
Abbott made headlines again in September with published study findings in the Journal of Diabetes Technology & Therapeutics that its Freestyle Libre helped to reduce diabetes-related hospitalizations.
According to the study, people with Type 2 diabetes who were following a basal-only regimen and using the FreeStyle Libre system had 67% fewer acute diabetes event (ADE)-related hospitalizations one year after initiating the FreeStyle Libre treatment. The data also showed a 75% reduction in hospitalizations for diabetic ketoacidosis and a 44% reduction in admissions for severe hypoglycemia.
"The reductions are similar to the results seen among the larger cohort of people with Type 2 diabetes who were receiving multiple daily injections, suggesting that FreeStyle Libre technology therapy should be proposed as part of individualized care for patients with Type 2 diabetes on basal-only insulin, not just people on intensive insulin therapy," said Jean-Pierre Riveline, professor, Centre Universitaire du Diabète et de ses Complications, Hôpital Lariboisière.
More to Come
Transparency Market Research predicts the market segment of glucose monitoring devices will expand as more diabetes tracking devices with sophisticated sensors are introduced, according to a Nov. 7 press release by the market research firm.
"An analysis of [the] diabetes devices market projects the global market to expand at 6% [compound annual growth rate] during the forecast period, from 2022 to 2031," according to the release.
Sign up for the QMED & MD+DI Daily newsletter.
You May Also Like
---