Medical-Grade Material Offers Clear Alternative for Rigid Packaging
Medical-Grade Material Offers Clear Alternative for Rigid Packaging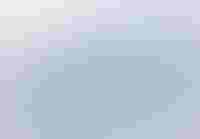 Medex 641 (right) medical-grade rigid packaging material exhibits good clarity and a better yield per pound than polyester thermoformed trays (left).
Rising resin prices have prompted medical device manufacturers to put pressure on suppliers to provide more-economical packaging options. In response, custom thermoformed package provider Prent Corp. and its sister company, extruded plastics supplier Goex Corp., have introduced the medical-grade Medex 641 extruded styrenic alloy as a cost-effective alternative to XT polymer, polycarbonate, PVC, polyester, and other rigid packaging materials.
Prior to the development of Medex 641, Prent had focused on cutting material costs by reducing package weight through creative design and the use of down-gauged materials. "However, there is a limit to how thin deep-draw medical packages can become using existing materials," says Joseph Pregont, president and CEO of Prent. "We knew the success of such efforts would ultimately hinge on the development of new materials for medical packaging."
Following this realization, Prent established parameters and identified the desired properties of a clear, cost-effective, rigid packaging material. It then handed off the project to Goex for materials science and development work. Once the material was developed, Prent once again got involved by evaluating its performance during thermoforming and sterilization processes.
This several-year-long collaborative R&D process yielded a material that weighs less than competing packaging materials, according to Pregont. "With less density, you can achieve the same package with fewer pounds of material." As a result, total material costs are lower, and yields per pound are higher.
Along with reducing costs, achieving high clarity was paramount for the medical packaging material. "There were a lot of cost-effective alternative materials that were not clear," Pregont notes. "But the medical device industry really likes for end-users to be able to look through the package to make sure it's the correct package, to verify that everything is there, or to make sure that the package is intact before they open it."
Additional advantages of Medex 641 include strength and durability. Unlike some competing packaging materials, the styrenic alloy won't exhibit brittle failures, according to Pregont. Furthermore, it withstands E-beam, gamma, and EtO sterilization processes.
Medex 641 medical-grade material for rigid packaging is currently available in sheet form from Goex or in custom thermoformed trays from Prent.
Prent Corp.
JANESVILLE, WI
www.prent.com

Goex Corp.
JANESVILLE, WI
www.goex.com
 
Sign up for the QMED & MD+DI Daily newsletter.
You May Also Like
---