Absolute Position Sensor Is Immune to Electromagnetic Interference
Absolute Position Sensor Is Immune to Electromagnetic Interference
While determining accurate positioning is essential in many medical applications, it is imperative that positioning sensors in surgical robots, for example, can perform in environments with electromagnetic interference or during power outages. To meet this growing market need, Micronor Inc. has introduced the MR330 series, which it claims is the world's first commercially available fiber-optic absolute position sensor.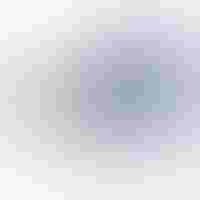 A fiber-optic absolute position sensor is suitable for surgical-robot applications.
Micronor developed a fiber-optic incremental encoder several years ago and immediately began getting inquiries from the medical device market for an absolute version, according to Dennis Horwitz, vice president of sales and marketing for Micronor. The problem with using incremental encoders for absolute position feedback is that they cannot accurately track position when power is lost. Absolute encoders have two advantages: the ability to provide a direct absolute-position readout and the ability to withstand any type of power outage.
"We took the challenge and began development [of the MR330 series] in earnest about five or six years ago," Horwitz says. "The absolute position sensor requires a completely different optical design approach from the incremental encoder. There was much R&D and multiple proof-of-concept iterations until we reached the optical technique that we now use."
Rather than using light intensity, the MR330 position sensor utilizes the light spectrum as an information carrier, so it is unaffected by a varying loss in the fiber-optic lines. First, the controller transmits a burst of light to the sensor; inside the sensor, a code disk modulates the spectral components of the light. The position information is imprinted in the optical spectrum of the light and guided back to the controller for position readout.
"For the surgical-robot applications, two desirable attributes were EMI immunity--being unaffected by outside interference--and the electrical isolation provided between patient and instrumentation," Horwitz says. Accommodating this demand, the MR330 is immune to any electromagnetic interference, including radiation, lightning strikes, electrical discharges, or magnetic fields from motors. The passive sensor and active controller are connected by a duplex fiber-optic cable, so no electrical connection to the sensor is required. One fiber-optic strand transmits light to the sensor, while another one receives the light with position information from the sensor.
In addition, the sensor always knows its exact position, whether the shaft is stationary or rotating, according to Micronor.  The controller is powered by 24 V dc, consumes only 70 mA of power, and offers numerous output position interfaces to accommodate different applications. It also does not radiate or spark, operates reliably with fiber-optic cable lengths of up to several hundred meters, and offers a resolution of 13 bits. The system keeps accurate track of positions at speeds in excess of 2500 rpm as well.
"This is truly a new and novel optical approach," Horwitz states. "For fMRI applications, the next step is to engineer a nonmetallic version, similar to Micronor's nonmetallic incremental MR318 model, for use in the MRI operating environment."
Micronor Inc.
Newbury Park, CA
www.micronor.com
Sign up for the QMED & MD+DI Daily newsletter.
You May Also Like
---