Innovative Molding and Screw Machining Enable Development of Microvascular Coupling System
Innovative Molding and Screw Machining Enable Development of Microvascular Coupling System
Originally Published January/February 2001
Innovative Molding and Screw Machining Enable Development of Microvascular Coupling System
The device replaces conventional suturing to save operating time and cost.
A microvascular coupling device makes it possible to reattach nerves, veins, and arteries severed during surgery in as little as two minutes, 10 times faster than with conventional suturing.
The microvascular anastomotic system saves "my patients and myself one hour per day on the operating table, and the success rate, about 99%, is equal to conventional suturing," says James R. Urbaniak, MD, of Duke University Medical Center. He has performed 1400 of these procedures.
Medical Companies Alliance (MCA) of Bessemer, AL, which currently markets the device, outsources its manufacturing to two other companies. The coupling devices are as small as 1.0 mm diam, yet contain numerous high-precision machined and injection-molded components. The most challenging parts—six pins with a shaft diameter of 0.16 mm—are produced by American Laubscher Corp. (Farmingdale, NY) on Swiss screw machines at 10 times the speed and accuracy that could be achieved on conventional CNC lathes. McKechnie Plastic Components (Minneapolis) provides the molded parts and packages the completed device.
How It Works
The microvascular anastomotic system is a mechanical method for coupling small vessels ranging in size from 0.8 to 3.6 mm. The device contains two polyethylene rings that each have six sharp pins embedded in them. To perform an end-to-end anastomosis, the end of each vessel is brought through the center of an appropriately sized ring, turned over, and then impaled on the pins. The vessel is thus perforated from the outer surface to the inner surface. Closing the coupling device brings the two rings into opposition. Further closure allows each set of pins to become seated in perforations on the opposite ring, and in this way the vessels are coupled with lumen-to-lumen contact. The two halves of the device are then pinched with forceps to ensure proper seating of the pins. Final tightening of the device forces a drive pin to release the reattached vessels and the polyethylene rings from the holder. The temporary vessel clips are then released and flow is reestablished.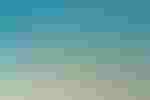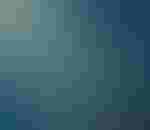 Polyethylene rings with embedded pins that have an overall length of 1.71 mm and a head diameter of 0.35 mm are used to couple small vessels during anastomotic procedures.

A Challenge for the Molder and Manufacturer...
Originally developed by 3M Medical Systems, the microvascular anastomotic system was sold to PrimeSource Surgical, a parent company of MCA. PrimeSource performed a worldwide search for a contract manufacturer before selecting McKechnie Plastic Components. "It was the one company that we knew had the expertise to insert-mold micromachined components and perform the required packaging and assembly operations," says Mark Breauninger, operations manager for PrimeSource. "The single-source manufacturing services provided by McKechnie allow us to focus on our core competency of device design and marketing."
McKechnie originally purchased the equipment used by 3M to manufacture the device, but it has since developed new methods. The coupling device is insert molded under a 10-power microscope that is used to place the tiny pins into position by hand prior to molding. The pins must be located to very tight tolerances in order to meet up with molded holes. It is a process that engineers at McKechnie equate to "molding Velcro." The injection molding process is carefully controlled so as not to disengage the pins within the tool. If the pins were to move out of the hole, it would fill up with resin and damage the tool.
... And a Challenge for the Machinists
American Laubscher had been supplying 3M with the tiny pins used in the coupler, but when McKechnie began producing the product, they needed to validate American Laubscher's continued ability to provide them. It is critical that the tolerance of these pins is held to a few thousandths of an inch. They are made of stainless steel and have an overall length of just 1.71 mm and a head diameter of only 0.35 mm.
"The pins could have been produced on a conventional CNC lathe, but it would have been difficult and expensive. CNC lathes are inefficient and not very accurate in making the tiny moves required to produce parts of this size," says Mark Schaefer, vice president of business development for McKechnie. "Fortunately, we found that American Laubscher owns and operates something like 80 of the 100 microsized Swiss screw machines that exist in the world. These machines are far more efficient at producing specialized microcomponents, such as small cylindrical parts, in high volumes because the cams that drive their axes provide higher speed and greater accuracy for very small moves. The company produces 100,000 of these components per year for us at a very reasonable price while maintaining the most exacting quality standards," explains Schaefer.
Benefits for Both Surgeons and Patients
In a related clinical study, the microvascular anastomotic system proved highly successful in 100 free-tissue transfers on humans. The average time per procedure was 4 minutes, and the success rate was 98.4%. Mean follow-up was 8.6 months and flap survival rate was 100%. Countless hours of surgery time and its attendant costs have been saved with the microvascular anastomotic system.
Less Is More for Maker of LED Display

Woven fiber-optic technology fosters development of low-power display.

A dental curing unit that was voted new product of the year by Reality, a magazine distributed to dentists worldwide, uses a backlit LED display to show curing times, power output, and remaining bulb life. The Demetron division of SDS/Kerr (Orange, CA), which developed the Optilux 501, required a display that would siphon minimal current. "It's important to keep the power demand inside the curing light as low as possible," says Raymond Knox, senior project engineer at Demetron. "The halogen lamp is 80 W and the whole unit is 100 W, so there's not a lot left for the display backlight. We tried an off-the-shelf LED backlighting display," Knox says, "but it had 20 die and it sucked 1/4 A of current, much more than the 501 could tolerate." Demetron then turned to Lumitex (Strongsville, OH), a supplier of backlighting systems for a variety of applications, which was able to provide a blue backlight that required less than 20 mA of power.

Lumitex's patented woven fiber-optic technology made this low-power, cool-operating backlight possible. Thin, light-emitting, EMI-free panels are woven from plastic optical fibers. Light enters the panels via highly polished fiber ends. Computer controlled "microbends" cause the transmitted light to be emitted from the sides of the fibers through the cladding. Layers of fiber-optic weave are assembled together with double-sided adhesive, adding additional brightness with each layer. A Mylar reflector is laminated to the back and a clear vinyl top layer is added for extra durability. The optical fibers extend from the panel in cable form and are bundled into a brass ferrule and are highly polished. These ferrules are then connected to a remote light source, such as a single LED. This technology allows a standard 2 x 16 LCD (assuming a viewing area of 16 mm x The Optilux 501 cures all commercially available composites and does so with an average cure time of only 10–20 seconds (depending on mode), prevents shrinkage of the material inside the tooth, and costs significantly less than rapid-cure lamps.
Sign up for the QMED & MD+DI Daily newsletter.
You May Also Like
---